Better understood as a list of religiously themed films, since "religious films" have a reputation for poor design and cheesy acting in favor of pushing dogma. There is excellent cinema that explores religiosity without necessarily advocating for it, and here they are, in my view: twenty great religious — or religiously themed, or spiritual — films of all time.
(Note: this expands on a previous list of ten.)

1. The Seventh Seal. Ingmar Bergman, 1957. If there was only one religious film I could save, it would be this. It sounds boring when described (a knight plays chess with Death), but it's the knight's journey around the game's intervals, through a land struck by plague and fanaticism, and his attempts to penetrate God's mysteries, that drive the story. It opens with the citation of Revelation 8:1: "When he broke open the seventh seal, there was silence in heaven for about half an hour". Bergman was obsessed with the silence of God in the world (see also entries 11-13 on this list), and in The Seventh Seal he ties that theme with mortality, existential dread, and apocalyptic fears. It's set in the 14th century, as the crusades were becoming obsolete, and when modern anxieties queried even more basic aspects of the Christian faith. For example, in his futile quest for meaning, the knight's best reach comes by enjoying a simple meal of wild strawberries and milk in the countryside with a peasant man and wife. The strawberries meal seems to contrast with the ritualized Eucharist liturgy. There's also huge entertainment in The Seventh Seal — bar brawls, apocalyptic tirades, insult contests, self-mutilation, and a witch-burning to top it off — that the theological side helpings make it one of the most balanced arthouse films I know. The final scene (above image) is my favorite frame from any film: the Dance of Death. If it is indeed this nihilistic dance that awaits us all, at least Bergman allows us to enjoy some comforts and unexpected epiphanies, and through a great cast of characters, before we get there.

2. The Tree of Life. Terrence Malick, 2011. This meditation on suffering was inspired by the book of Job, in which God replies to his servant's anguish not by having the courtesy to answer the question, but by hubristically displaying His creation: "Where were you when I laid the earth's foundation? Tell me, if you understand. (Job 38:4) This is what the 20-minute cosmos sequence is about, a stunning Big-Bang/evolution snapshot that makes the viewer feel humbled by celestial mysteries. While it didn't exactly make me feel better about the problem of theodicy (why the innocent suffer), the amazing visual canvass with Lacrimosa playing over it (you can watch the sequence here) helps put the matter in perspective in a way that words off the scriptural page can hardly match. Our tragedies look admittedly small in the grand scheme of things. Basically, Malick takes an American Catholic family of the 1950s and frames them within this macrocosm of evolution, and also within a dialectic of nature vs. grace: "Grace doesn't try to please itself. It accepts being slighted, insults, and injuries. Nature only wants to please itself, to get others to please it too, and to find reasons to be unhappy." What's interesting is that grace emerges in this film not as something which contradicts nature (even if it is its conceptual opposite), but rather something inherently part of it, or complementing it, or mutating from it. The film ends on a spiritual apocalypse that could move an atheist: the yearning for reunion in some form of afterlife, even if that's a fantasy we cling to in order to cope with our losses.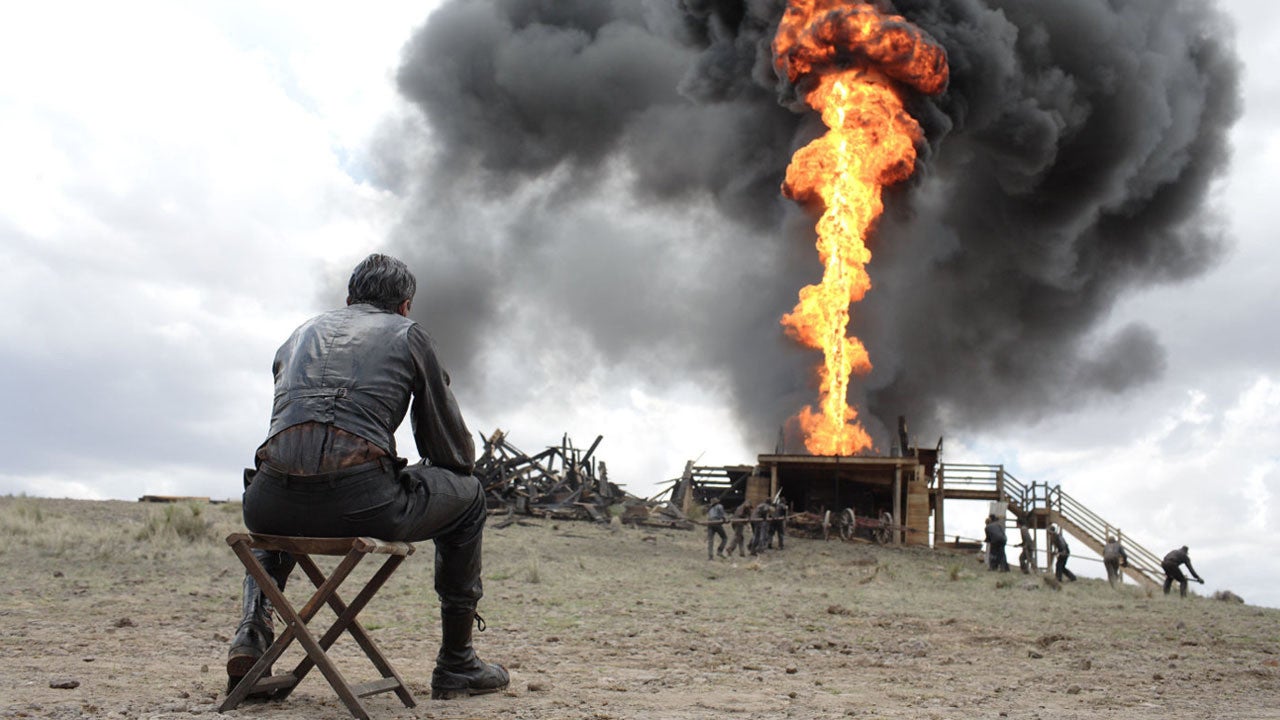 3. There Will Be Blood. Paul Anderson, 2007. This blistering attack on the prosperity gospel was almost enough to make me renounce my capitalist convictions. Set in 1911, it's about a man's rise from poverty (a miner) to riches (an oilman), and his relationship with a young pastor who offers faith-healing and hypocrisy to those who dare the doors of his grim church. Daniel is a mean and hateful man, who has no friends and just wants to become filthy rich. The pastor is Eli, who is just as greedy but doesn't want to get his hands dirty; Daniel scorns religion but has no problems using it as a means to an end. The middle and final scenes define this relationship. In the first, Daniel arrives at the Church of the Third Revelation and suffers a humiliating baptism which involves him screaming his confessions at the congregation and Eli slapping his face: "You will never be saved if you reject the blood," warns Eli, a statement loaded with irony since there is plenty of real blood on Daniel's hands. The final scene sixteen years later reverses the humiliation. Eli has become a failure and needs money, and Daniel (now an obscenely rich drunk and more mean-spirited than ever) says he will give Eli money if his admits that he's a false prophet and God is a fiction. Eli confesses this, and Daniel finishes his revenge by clubbing him to death. Blood spills from everywhere throughout this film — from the land (oil), people, and the Lamb Himself — and critics are right to call it a masterpiece of rare vision. It's about greed and evangelism eating each others tails.

4. The Exorcist. William Friedkin, 1973. As my favorite film of all time it was difficult to rank on its strength as a religious film, but the fourth slot feels about right. As a horror film it's the best ever made; as a religious film it's a treatise on the mystery of faith. Friedkin describes it thus: "Life is such a gift and and yet a mystery, and I don't think we make movies about that stuff anymore. If you believe that the world is a dark and evil place, that's what you will take out of The Exorcist. But if you believe that there is a force of good in the world that is forever combating evil, sometimes winning victories over evil, but never an ultimate victory — if you believe as I do that that's the case, then you will take that away from The Exorcist." You can make a case for the historical Jesus being an exorcist more than anything else. If his teachings and parables have endured famously, his healings and exorcisms are probably what made people listen to him in the first place. However, some of the people Jesus exorcised may have been just mentally ill, even if understood to be possessed. This film inverts the assumption. All the doctors and shrinks insist that Regan is mentally ill after the somatic causes are ruled out. Even the priest Father Karras believes this, and it's only after the most harrowing confrontations in Regan's bedroom that he finds his faith again, under instruction of the elder exorcist. It took an agnostic director like William Friedkin to make a film about faith this compelling, let alone so terrifying.

5. Love Exposure. Sion Sono, 2009. To celebrate sexual deviance in a context of religious dogma is a bold strike, and Love Exposure pushes more envelopes than South Park and Borat combined. It's a four-hour sprawl of religious guilt, sexual frustration, family feuds, industrial pornography, and peek-a-panty photography — the last involving street boys who look up girls' skirts while camouflaging their camera shots with hilarious martial-arts acrobatics. It's impossible to summarize without sounding ludicrous, but be assured that critics and audiences love it. I fell absolutely in love with Yu and his quest for the right girl — his "Virgin Mary" as it were. He's a genuinely good kid, but driven by the need to sin in retaliation against his repressive father, a Catholic priest who treats him horribly in the confessional booth. On the street he finds his dream girl, Yoko, who unfortunately despises men, and yet falls in love with Yu anyway because she thinks he's a woman since he's dressed in drag (again: it all sounds too absurd to make time for, but trust me, it works). Things get even crazier when another girl, Koike, comes between them and manipulates them in psychotic ways. While Yu is a product of religious repression, Koike is the product of religious abuse (repeatedly raped by her father until she castrated him) and a destructive sociopath. I felt like these characters were my family by the end of four hours (which seemed more like two and a half), and for all the absurdist comedy, the message about Catholic dogma, new wave cults, and the ultimate nobility of perversion is a very serious one.

6. Silence. Martin Scorsese, 2017. Scorsese's occasional forays into religion — The Last Temptation of Christ (1988) and Kundun (1997) — have been so bad that I set my expectations low for this one, but he finally hit a home run. Silence is as good as his gangster films, and a special treat for someone like myself who loves Shogun. That novel is set in 1600, in the middle of Japan's "Christian century" (1543-1635), and portrays the complex history of the Portuguese Jesuit missionaries. Oda Nobunaga had welcomed them in 1568 in order to obtain guns and cannons for his military campaigns (though he was also genuinely impressed by the rigors of Jesuit life, while despising the hypocrisies of the Buddhist clergy); Toyotomi Hideyoshi was the next unifier who loathed Christians, issuing an edict to expel them in 1587, and then crucifying a whole bunch of them in 1597; with the ascension of Ieysu Tokugawa and the establishment of his shogunate in 1600 (to last until 1868), attitudes towards Christians became ambivalent, until finally in 1635 Christianity was banned and inquisitorial methods were devised to root out practicing Catholics. It is this "post-Christian" period in the late 1630s that Silence draws us into, and Scorsese is just as good as Clavell in resisting sides. The film is no more a liberal critique of western colonial power than it is a Mel-Gibson-like glorification of Christian martyrdom. The priests are decent and have treated the peasants with dignity in a feudal state that was hostile to the poor; yet their work for God incited massacre. Like Clavell, Scorsese shows courageous people going under the sword of honor and shame, and essentially reaped what they sowed.

7. Seven. David Fincher, 1995. I realize I'm being cute by putting this at the seventh slot, but I wouldn't rank it lower than ninth in any case, so it may as well go here. Seven is a mainstream masterpiece that continues to feed my fascination with Christian sins and the contrapasso punishments of Dante's Inferno. What elevates it above greatness to masterpiece is the way John Doe wins in the end. "The box" has become an icon of our collective mindset almost like "Rosebud". That comparison may sound absurd, but I do believe that Seven is as perfect a film as Citizen Kane. There's nothing to fault here: the atmosphere (always either dark or raining), the scoring (the prologue's Nine Inch Nails song, and the library scene's Air on the G-String in particular), the casting (Morgan Freeman's and Kevin Spacey's best roles), and above all for its dramatic tunnel into the depths of hell and the meticulously crafted climax, all of which combine to suggest a hopeless world, an ugly humanity, but with enough heroes like Somerset and Mills who for their flaws are willing to fight on regardless.

8. Doubt. Patrick Shanley, 2008. When a liberal priest is accused of having an erotic interest in one of his altar boys, one nun becomes convinced of his innocence while another is certain otherwise. We aren't sure what to believe or how to feel, because the evidence is murky and the priest a sympathetic character. He's progressive for the year 1964, while the inquisitorial nun (Sister Aloysius, above image) laments Vatican II. The pivotal scene is the conversation between Aloysius and the boy's mother, who basically tells the nun to just let the priest have his way with her son, in a jaw-dropping and surprisingly compelling argument, given her limited options as an African-American woman of the time period. She isn't wild about her son's friendship with the priest, but thinks it's a refuge from life at home under a violently abusive father, who hates and beats the boy for "his nature" (apparently the boy's gay orientation is being signaled at an early age). That's a hard idea in our world today which pathologizes eroticism between adults and youths, and that is part of Doubt's challenge. It's easy to like the priest for many reasons, not least his fantastic sermons — the opening one on doubt (being "a bond as creative and sustaining as certainty") and the middle one on gossip (which skewers the two nuns wonderfully).

9. Jesus of Montreal. Denys Arcand, 1989. This reinvention of the passion play is a critique of orthodox Christianity but fires especially on secularist evils — fame, the media, and the contempt actors suffer in the commercial industry. It takes place in '80s Montreal where a Catholic priest hires a talented actor to direct the annual passion play, but he wants him to get creative and rework the stations of the cross for a more modern consumption. The priest gets more than he bargained for. Using the latest of biblical scholarship, the actor (Daniel) casts himself as Jesus and with four other actors turns out a passion play in which Jesus is an illegitimate bastard sired by a Roman soldier, and less interested in making people feel good than terrifying them with lines from the Abomination of Desolation (Mark 13). The priest is outraged and does his damnedest to stop the project, but Daniel and his group persist and continue to draw crowds. Not only that, but Daniel's personal life begins to strangely mimic Jesus', especially in two pivotal scenes. The first summons the moneylenders in the temple, when an actress auditions for a TV commercial and is told to remove her clothes simply because the casting director wants to humiliate her. Daniel bounds to his feet and tells her to leave, and then overturns the lights, cameras, and tables. The second scene comes at the end, where Daniel delivers an incredibly haunting version of the Markan Apocalypse before collapsing on the subway station. Most Jesus films are lame; Jesus of Montreal is genius — the best Jesus film of all time.

10. Mother! Darren Aronofsky, 2017. If you don't like being offended on the deepest levels, then you should probably avoid Mother! at all costs. On the surface it portrays a man and woman in a countryside home, where the woman suffers intrusions from guests who gratify her husband's ego. The intrusions get increasingly outrageous, until hell literally breaks loose. The indoor house becomes a battlefield of crazed strangers who commit unspeakable acts, and in the end seize the woman's newborn infant, rip it apart into dozens of pieces, and eat it as if it were a sacrificial lamb. This batshit craziness is an allegory every step of the way: Before God created humanity, there was paradise, represented by the house. Jennifer Lawrence is Gaia, or Mother Earth, who defends the living organism that is the house (we see mouths appear in the floor, flesh gurgling in the toilet, etc.). She is baffled as to why people disrespect her home. Javier Bardem is God, her husband, who is a writer (a "creator"). Ed Harris and Michelle Pfeiffer are the Adam and Eve equivalents who invade the house of Mother's perfect world, and the writer's study (the Garden of Eden), which holds God's perfect crystal (the forbidden fruit). Their unruly children are the Cain and Abel analogs, and the former kills the latter right in front of Mother who is aghast. The writer eventually acquires multitudes of fans who swarm into the house (feeding God's need for worship). The intruders keep sitting on Mother's sink, causing the pipes to burst and bringing about the Flood. God finally impregnates Mother, who gives birth to the messiah, who is adulated, seized, ripped apart, and eaten. She snaps at long last and attacks the crowd in fury (nature's wrath). Mother! is the one of the angriest films I've ever seen, about humanity's abuse of the Earth which prompts Her retaliation.

11-13. The "Silence of God" Trilogy. Ingmar Bergman, 1961-63. It was a guarantee that Bergman would have multiple slots on this list. His "Silence of God" trilogy is sometimes called the "Faith Trilogy", but that's rather misleading considering that Bergman is always about the impotence of faith. Each film stands on its own, but it's helpful to watch them sequentially as they escalate the riddle of God's existence: from the spiritual frustration suggesting God as sinister (Through a Glass Darkly), to the anger questioning his existence (Winter Light), to finally accepting there are no answers, though the search for answers remains important (The Silence). The first is a character examination of incest and psychological breakdown; it was my first Bergman film and I fell in love with Harriet Anderson (above image) completely. The second is a theological interrogation that shows a pastor, furious at God's indifference, breaking his own "silence" towards the kindest woman with an avalanche of brutality. The third carries the theme of silence to its symbolic extreme, with non-communication pervading every level: two sisters stay at a grotesque hotel and retreat into their own silences/dysfunctions of sexual promiscuity and alcoholism. It adds up to a brilliant symphony which reflects Bergman's evolution away from a doubtful Christianity. All the more ironic is that his secular humanism became even more doubtful, and I find myself revisiting these chamber pieces to get a handle on my own schizophrenic tensions between religion and humanism.

14. First Reformed. Paul Schrader, 2018. Less a remake of Winter Light (the twelfth slot, above) and more a spin-off, it nonetheless follows Bergman to a tee in refusing to answer the questions it raises and bruises us as we search for meaning in a world going to hell. In Winter Light the parishioner killed himself over the fear of nuclear war. In First Reformed the suicide is caused by the specter of environmental catastrophe. In the wake of this, the priest is so shaken that he finds himself drawn to martyring himself. Schrader brings the theme of God's silence into the modern era, making Bergman themes accessible without compromising them. It asks what happens when you build your life on the premise of God's existence, and then God turns out to be silent, his Son's teachings impotent in a world of environmental devastation, corporate power, disease, torn relationships, and ruined dreams. At no point does First Reformed pander to the mainstream by sacrificing its artistic vision. And when Schrader goes for the jugular, it's in ways that surprise; the final scene still blows my mind. My only reservation is the sequence that replays Tomas's cruel treatment of Marta in Winter Light, which went on for a patient ten minutes, but here is zipped through in the blink of an eye. Aside from that, First Reformed is the rare remake/spin-off of a mighty classic that has every right to exist, and it grows on you with subsequent viewings.

15. Thirst. Park Chan-wook, 2009. Spiritual on the basest level, Thirst is about the purity of desire — the desire for sex and blood, but also for something more elusive, like a supernal righteousness or sinfulness. It's about two vampire lovers who deal with their needs on opposite ends of the moral compass. The priest is a good man who becomes a vampire at the start of the film, by accident. Having volunteered to be injected with a trial vaccine for a rotting disease, he dies in the trial, but unlike the other guinea pigs he comes back to life; one of the transfusions has turned him into a vampire. Only fresh blood can stop the return of his skin boils, but he does all he can to avoid killing people, mostly by sneaking through hospitals and slurping the intravenous tubes of comatose patients. But when he turns a woman he falls in love with — the wife of his best friend, whom they both end up murdering — it's not long before she brings out the worst in him. The film explores the duality between blood-feeding as a sacrament, and its Satanic counterpart which revels in the glory of the hunt. Few vampire films explore the suffocating pain of being a vampire, and those that try usually leave much to be desired (like Interview with the Vampire). Thirst succeeds in this largely because of its religious framework.

16. Of Gods and Men. Xavier Beauvois, 2010. I was only vaguely familiar with the true account behind this film before watching it. In 1996 a group of French Cistercian monks in Algeria were taken hostage by Islamic jihadists and then beheaded. They could have easily avoided their fate and returned to France, and some of them wished to do just that, but as a group they elected to stay and minister to the surrounding Muslim villagers who were coming under fire — girls getting killed on buses for refusing to wear the hijab, others getting their throats slit for various violations of sharia law. The film maintains an extraordinary sense of detachment as the monks wrestle with their faith and their conscience. They have no interest in converting anyone to Catholicism, only following Jesus's dictum to help the oppressed even if that means martyrdom; which in the end, of course, it does. The contrast between Jesus's injunctions (to help the poor and dispossessed at whatever cost to oneself) and Muhammad's (slay unbelievers) isn't the point of the film; Beauvois is no triumphalist preacher. But the contrast emerges just the same, and if that's not politically correct, it's certainly accurate. Christians continue to be killed like this throughout the Muslim world. It's noteworthy that while both the peaceful Muslims villagers and jihadis cite the Qur'an, it's the peaceful ones who paraphrase or generalize without precision, and the jihadis who recognize specific texts; indeed one of them finishes a quotation carelessly parroted at them.

17. The Witch. Robert Eggers, 2016. This horror film was misleadingly marketed to give the impression of a mainstream effort with loud bangs and cheap thrills. It's far better than that, and I think a religious film primarily, as the characters obsess God and their purity of purpose. Set in 1630s Colonial America (interestingly, the same period of Scorsese's Silence), decades before the Salem Witch trials, the story tells of a Puritan family who leave their plantation and settle miles away in isolation from other people. This forest border happens to be the home of a witch, who wastes no time lashing out at them, first by snatching their newborn infant under a game of peek-a-boo and stabbing it to death, and eventually by possessing the 11-year old son who dies screaming a prayer by John Winthrop (one of the Puritan founders of New England) in near orgasmic ecstasy. Not being familiar with the writings of Winthrop, I thought this was some kind of pagan perversion of a Christian prayer, given the erotic overtones (which I should have known better as derived from the Song of Songs). The boy is still in thrall to the witch's possession at this point, but it's not clear how much, and it's scary. He dies after shouting this litany, and it's pretty much heads or tails whether he's saved or damned. The film doesn't exactly choose sides between Christian zeal and pagan blood rites. If there's any moral contrast, it's between the misery and liberation of the eldest daughter, who is falsely accused by her family for being a witch, and then in the end becomes one. There is much to admire in the Puritan zeal, and much not to, as it turns out.

18. Palindromes. Todd Solondz, 2005. This satire on abortion plays no favorites, and you will feel painfully skewered by it whether you're for life or choice. It tells of a thirteen-year old girl (Aviva) who is forced against her will to have an abortion by her mother, who advances the most pathetic reasons to have the abortion, clearly robbing her daughter of the "choice" she claims to espouse. Aviva runs away from home, and eventually joins a Christian communal family whose patriarch kills abortion doctors. Some of the ballsiest scenes are found at the Christian home, where physically and mentally disabled kids shuck and jive to Jesus songs, and are cared for under the genuine but perverse love of Mama Sunshine. The film suggests that both anti- and pro-abortionists wind up in the same morass of contradictions, regardless of their starting point — like palindromes, which are words reading the same backward as forward. I'm also intrigued by the film's secondary message, a parable for the book of Ecclesiastes, that there is "nothing new under the sun". The key dialogue for this comes at the end from the character of Mark, when he tells Aviva: "People always end up the way they started out. No one ever changes. They think they do but they don't. If you're the depressed type now that's the way you'll always be. If you're the mindless happy type now, that's the way you'll be when you grow up. There's no freewill. Ultimately, we're all just robots programmed abritrarily by nature's genetic code. We hope or despair because of the way we've been programmed. Genes and randomness, that's all there is and none of it matters." Well, there you have it.

19. Shadowlands. Richard Attenborough, 1993. To make a film about C.S. Lewis runs the risk of evangelizing as the man himself did, but Attenborough tells a professional biography, and one that is utterly heartbreaking. I'm not usually fond of romances in which one of the pair gets bad news from the doctor and ends up dying in horrendous agony, but Shadowlands filters the tragedy through the lens of a famous theologian who had written so much on the necessity of human suffering. Confronted with it personally, he finds himself mocked by his own wisdom. Before meeting Joy Gresham, C.S. Lewis had always been confident about the purpose of pain and suffering: "It's God's megaphone to rouse a deaf world," he thunders in his lectures, when we first see him. The idea is that pain and suffering is God's way of perfecting people and enabling them to learn from cruel experience — to grow up, in other words. The problem is that Lewis never really experienced pain and suffering. He had an easy life in his academic tower, teaching students who near worshiped him for his fame. When Joy gets cancer, it virtually emasculates him. Shadowlands is a tearjerker, but without a sliver of cheap melodrama; a brutal look at how a Christian theologian was broken by his own lessons.

20. Noah. Darren Aronofsky, 2014. Before the allegorical Mother! came Aronofsky's literal adaptation of a biblical narrative, and the story I've always wanted to see made into a mighty epic. In some ways Noah is a boilerplate blockbuster, but I love it to pieces for the way it reinterprets the flood through Gnostic and Judeo-Christian filters almost impartially. And if it channels Lord of the Rings grandiosity, that works too, because the first eleven chapters of Genesis are complete myth — the same sort of mythic pre-history that Tolkien intended by Middle-Earth. So when we see giant rock creatures (the Watchers) and bits of magic here and there, it somehow makes the story of Gen 6-9 seem as it should. It's a sweeping epic, but a grim one that doesn't soft-peddle God's act of genocide. Noah and his family are commissioned to preserve the animal creation while humanity is wiped out — because people, in God's eyes, deserve nothing less. Noah turns homicidal like his Creator, as he plans to murder his daughter-in-law's babies. Don't listen to complaints that the theme of divine vengeance has been anachronistically aligned with pagan environmentalism or vegetarianism. If Christians knew their bibles, they would know that a significant amount of "environmentalism" can be derived from scripture; and if we're going to be proper fundies, we would acknowledge that God didn't add meat to the human diet until after the flood (Gen 9:3). Noah isn't pro-environmental in any true modern sense, though it can resonate with some viewers on that level. It is a dark chapter of the bible come to life, with a great realization of the Ark and epic battle scene that rivals Peter Jackson's Ents. But it also forces the hard issues of Job, the Saul and David stories, and the apocalypse of Revelation.