In compiling this list of film picks, I limited myself in certain ways to make the exercise meaningful. Otherwise over half the list would be dominated by my favorite film makers — Lynch, Kubrick, Friedkin, Malick, Tarantino, Scorsese, etc. So I set a rule of using a director no more than twice, and even twice only if it couldn't be avoided. This isn't a ranking of the films, rather a chronological review of the past five decades. At the end, I do rank what I consider the top 3 from each decade.
1970s
1. Harold and Maude. Hal Ashby, 1971.
2. The Godfather. Francis Ford Coppola, 1972.
3. Cries and Whispers. Ingmar Bergman, 1972.
4. Heavy Traffic. Ralph Bakshi, 1973.
5. Badlands. Terrence Malick, 1973.
6. The Exorcist. William Friedkin, 1973.
7. Chinatown. Roman Polanski, 1974.
8. Taxi Driver. Martin Scorsese, 1976.
9. Eraserhead. David Lynch, 1977.
10. Alien. Ridley Scott, 1979.
1980s
11. Christiane F. Uli Edel, 1981.
12. The Evil Dead. Sam Raimi, 1981.
13. The Road Warrior. George Miller, 1981.
14. Conan the Barbarian. John Milius, 1982.
15. Fanny and Alexander. Ingmar Bergman, 1982.
16. The Meaning of Life. Terry Jones, 1983.
17. Crossroads. Walter Hill, 1986.
18. Near Dark. Kathryn Bigelow, 1987.
19. Jesus of Montreal. Denys Arcand, 1989.
20. The Cook, the Thief, his Wife, and her Lover. Peter Greenaway, 1989.
1990s
21. The Exorcist III: Legion. William Peter Blatty, 1990.
22. Fire Walk With Me. David Lynch, 1992.
23. Leon the Professional. Luc Besson, 1994.
24. Pulp Fiction. Quentin Tarantino, 1994.
25. Seven. David Fincher, 1995.
26. Casino. Martin Scorsese, 1995.
27. From Dusk till Dawn. Robert Rodriguez, 1996.
28. Crash. David Cronenberg, 1996.
29. The Ice Storm. Ang Lee, 1997.
30. Eyes Wide Shut. Stanley Kubrick, 1999.
2000s
31. The Lord of the Rings. Peter Jackson, 2001-2002-2003.
32. Storytelling. Todd Solondz, 2002.
33. City of God. Fernando Meirelles, 2002.
34. Hard Candy. David Slade, 2006.
35. United 93. Paul Greengrass, 2006.
36. Deja Vu. Tony Scott, 2006.
37. Sunshine. Danny Boyle, 2007.
38. There Will Be Blood. Paul Thomas Anderson, 2007.
39. Doubt. John Patrick Shanley, 2008.
40. Love Exposure. Sion Sono, 2009.
2010s
41. The Tree of Life. Terrence Malick, 2010.
42. The Divide. Xavier Gens, 2011.
43. The Pact. Nicholas McCarthy, 2012.
44. Blue is the Warmest Color. Abdellatif Kechiche, 2013.
45. The Walk. Robert Zemeckis, 2015.
46. Little Men. Ira Sachs, 2016.
47. Mother! Darren Aronofsky, 2017.
48. Blade Runner 2049. Denis Villeneuve, 2017.
49. First Reformed. Paul Schrader, 2018.
50. The Painted Bird. Václav Marhoul, 2019.

1. Harold and Maude. Hal Ashby, 1971. Most of my selections from the '70s are films that couldn't have been conceived in any other decade, and that's especially true for Harold and Maude. A morbid love affair between a suicidal teen and a 79-year old woman was widely panned at the time of its release, but much more appreciated now as it deserves. Harold is a suicide addict who tries killing himself in a variety of ways — seppuku, hanging, drowning, self-immolation, self-mutilation, driving his car off a cliff — to the exasperation of a mother who can hardly be moved to care beyond her exasperations. Maude, as a Holocaust survivor, is a born soul mate for Harold, age difference be damned. One of the darkest comedies ever made, and a fitting start to the '70s era of cynical nihilism.
2. The Godfather. Francis Ford Coppola, 1972. Please note that I include only Part I on my list. Part 2 is a very good film, but, contrary to the pronouncements of almost every critic, it is not a sequel that surpasses the original. Not only does it lack the presence of iconic characters like James Caan's Sonny and Marlon Brando's Vito (DeNiro, for all his genius as the younger Vito in Part 2, does not beat Brando), but Michael's pivotal transformation in the first film is what the Godfather tragedy is all about. Michael Corleone has one of the most compelling story arcs in cinematic history. All he does in Part 2 is continue his downward spiral. I even prefer Godfather Part 3 over Part 2, for its focus on Michael's move in the other direction, and the question of his redemption. In any case, The Godfather is the film that heralded the '70s Golden Age of cinema.

3. Cries and Whispers. Ingmar Bergman, 1972. Possibly the most painful film I've endured: the hurt on display is relentless; facial contortions, gasps, and screams so awful it doesn't seem like acting. The use of red color permeates everything and accentuates the world of hurt. And there's plenty of emotional trauma to match the physical assault of Agnes' cancer: the sisters feed off each others faults with raging insecurity. Believe it or not, this film is basically The Exorcist — it was released only a year before, and its influence on that film is hardly subtle — except the demon is the disease of cancer from which there is no liberation; Agnes dies in the end. You can see how clearly Friedkin was inspired by Bergman — the clock imagery, house atmosphere, bed agony, and self-harm. Cries and Whispers resonates for me on these levels, and in the wake of my father's death helped me face my mortality for the first time.

4. Heavy Traffic. Ralph Bakshi, 1973. Before he wrecked The Lord of the Rings (1978), Ralph Bakshi scored big with x-rated animation, most notably Fritz the Cat. But Heavy Traffic is his masterpiece in my opinion, for using black humor and racial stereotypes that don't let anyone off the hook. It's bold and discomfiting as it should be, and a celebration of urban decay that satirically explores what it means to be a young and frustrated artist in New York. The artist's name is Michael Corleone, whose story loosely parodies the family betrayals of The Godfather, but only superficially. Bakshi is less interested in mafia crime drama and more in sordid life on the street, and he pulls no punches depicting reality which is far from politically correct. It's the sort of refreshing bravery we seldom see anymore, aside from rare exceptions like South Park. And yet amidst all the grotesque imagery, there are moments of unexpected beauty.
5. Badlands. Terrence Malick, 1973. Malick's first film is in every way a '70s work par excellence, and one that only obliquely distinguishes itself as a Terrence Malick film per se. Like so many productions of this time, Badlands epitomizes the ideological emptiness of America after Vietnam and the social upheavals of the '60s. Malick takes an amoral stance, refusing to either condemn his delinquent Bonnie-and-Clyde killers or cheer them on as anti-heroes. Malick is clearly trying to underscore the way characters react and relate to meaningless violence, and what I find most disturbing about it is the tone of disinterest and nonchalance; the duo don't relish killing, nor do they murder with any real purpose; it's just a way of life that comes naturally to them given their circumstances.
6. The Exorcist. William Friedkin, 1973. This was a Christmas release in '73, and it must have ruined many holidays. I was only five at the time. When I saw it on TV in '79, it devastated my 11-year-old psyche. For years afterwards, images from The Exorcist would assault me at unexpected moments, the worst being at night, leaving me paralyzed and terrified of my own existence. It was a shameful, hideous secret I spoke to no one about because I couldn't give it voice. Somehow Friedkin came up with exactly what you'd imagine a demon to look and sound and act like, as it tears up a 12-year old girl from the inside out. Worth noting is that only a month after its release (January 27, 1974) the role-playing game Dungeons & Dragons was released. That the best game of all time followed hot on the heels of the best film of all time is a testimony to the creative legacy of the early '70s.
7. Chinatown. Roman Polanski, 1974. Critics can point to any number of reasons for the film's greatness, but for me it's the way it begins as a crime mystery and ends as a personal tragedy. The mystery involves a scam to dry up the San Fernando valley by diverting water away from it, buying up the land cheaply, then re-diverting the water back to the valley so the property becomes valuable again. Jack Nicholson is the private eye investigating the conspiracy, but his investigations lead to romantic entanglements, and a climax that focuses on the perverted incestuous relationship between key characters. A '70s film entirely, unencumbered by action sequences or artificial thrills.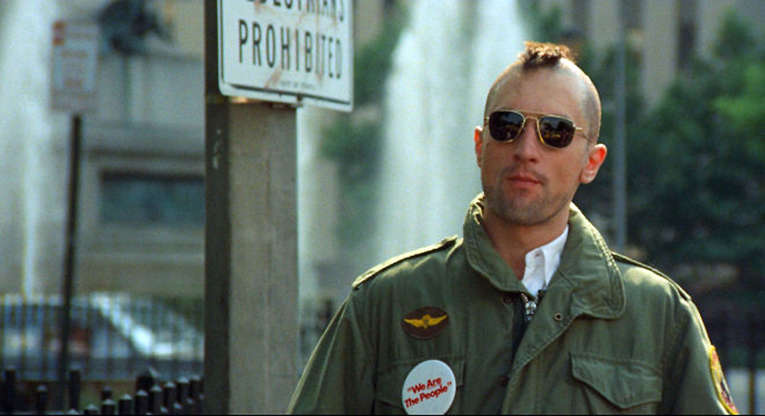 8. Taxi Driver. Martin Scorsese, 1976. What can be said about this masterpiece that hasn't been obsessed? Nothing probably, but I'll offer this: that there is some of Travis Bickle in all of us. The misanthrope who thinks, with no conscious malice, that society is degenerate and beneath contempt. The sociopath driven to loneliness after failing to connect with people. The frustrated citizen who thinks his country needs an enema, and will assist in this regard by using violence. Travis is as relevant in the 21st century as he was in the '70s. America has become the nation of increased income inequality, alternate facts, social media bubbles. Only very rarely do I cheapen a cinematic masterpiece by reducing it to a political metaphor, but the metaphor in this case is very much the point of why the Travis Bickles devolve as they do.

9. Eraserhead. David Lynch, 1977. Lynch's first film represents the purest tuning of the dream-consciousness style he's become known for. To watch Eraserhead is to watch someone's nightmare caught on tape. A man's boring career of label-making is interrupted by his girlfriend's news that they have a baby: a hideously deformed tadpole that cries day and night, resisting food and comfort, until his girlfriend abandons them both. While it's tempting to wring out metaphors pertaining to fears about parenthood, it's really impossible to describe what Eraserhead is getting at. Like real nightmares, this one unfolds as it pleases in every bizarre direction. It's no accident that David Lynch — currently the best film maker alive — started his career in the unrestrained creativity of the '70s.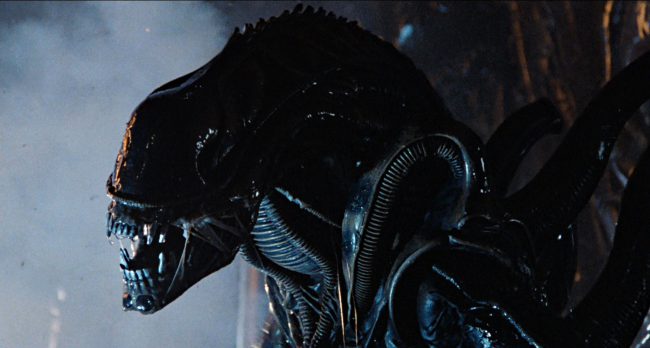 10. Alien. Ridley Scott, 1979. Just as there will (surely) never be a scarier supernatural film than The Exorcist, there will (doubtfully) ever be a scarier sci-fic film than Alien. Such was '70s film making. Kubrick's Space Odyssey had showed space travel to be an awe-inspiring wonder; Scott now showed the underside of space travel, with claustrophobia, isolation, and invincible savagery. I never cease to be amazed at those who insist that James Cameron's sequel is superior. Aliens is just Alien on steroids, not even a fifth as scary, a cheap blockbuster involving military personnel whose job to die defending others. In the perfect original we feel the raw terror of six civilians stranded in space, hunted and devoured one by one, between nerve-wracking pauses.

11. Christiane F. Uli Edel, 1981. This unpleasant portrait of drug addiction is based on the real-life Christiane Felscherinow, who became a heroin addict and prostitute between ages 13-15. It's a German film that would have probably been destined to the obscurity of arthouse theaters in America, if not for the cameo from David Bowie, whose music is also used, notably in the powerful scene where kids are running through the mall to "Heroes". (I'm sure this scene was the inspiration for the tunnel rides in Perks of Being a Wallflower, where the song is similarly deployed in the context of teens whooshing through tunnels and reaching for existential freedom.) It deserves its cult status even apart from Bowie, though it's a very hard watch. It's an '80s film but with '70s soul, as it's set in '70s Berlin and suffused with the isolated hopeless despair of the decade.
12. The Evil Dead, Sam Raimi, 1981. It's low-budget with laughable acting, but that doesn't matter. In terms of relentless demonic terror, few films have ever matched it. The trio of ladies are basically adult Linda Blairs; their voices and makeup jobs alone scare the shit out of you. Then there's the legendary scene in which Cheryl gets raped by a tree. Linda eating her own hand is another unspeakable that today's scriptwriters could learn from. The Evil Dead sequels had better budgets and special effects to prop them up, but they were comedy-horrors. The first film is dead-serious. It came out in '81 but is a '70s film at heart — in some ways a triumphant last gasp of hard-core horror before Freddy Krueger and other slashers took over.

13. The Road Warrior. George Miller, 1981. Unlike the Evil Dead sequels, The Road Warrior outdid the first Mad Max movie and remains the best post-apocalyptic film ever made. Like Conan (#14 below) and Snake Plissken in Escape from New York (1981), Mad Max is an amoral anti-hero straight out of pulp escapism, and his solitary wanderings across a wasteland remain an incredibly inspiring archetype. There's so much about this film impossible to forget: the feral kid with the boomerang who narrates the story as an adult, the amazing road stunts for pre-CGI days, and the idea of gasoline being the most precious commodity — which resonates rather loudly in the 21st century. The Road Warrior is from the strong early years of the '80s ('80-'82) before film lost a lot of its edge.

14. Conan the Barbarian. John Milius, 1982. This is the first film on this list that I saw in the theater, and it did a number on my 13 year-old sensibilities. Unlike most '80s fantasies, the world of Conan was done justice by an R-rating, and so we're treated to Conan's coupling with a vampire who goes rabid on him at the moment of orgasm, and an appropriate deluge of blood and gore in the battle scenes. The score is the best of any movie I've ever seen: thundering brass and Latin chants roll over grim battle sequences, while variations of the main theme play at just the right moments. By this point in my life, the first two Star Wars and Jaws films, and Raiders of the Lost Ark, had wowed most of the kids my age. Not me. Conan was my movie; it made me fall in love with film, and it deserves immense praise. It holds up incredibly well today unlike other '80s fantasies. Not until Lord of the Rings 20 years later would a worthy fantasy come to the screens.

15. Fanny and Alexander. Ingmar Bergman, 1982. This Swedish masterpiece is diminished by accolades; it has to be experienced to feel the magic, and despite the three-hour length (or even five-hour, if you see the extended version), you won't want it to end. It's a Dickens-like wonder, populated by ghosts and magical surrealism, the stuff of rare epic, weaved around a boy's imagination that helps him deal with the death of his father and an abusive new one. There is the wild Christmas party of the first part, the tyranny and bloody lashings of the second, the dazzling dream-flight of the third. What stands out most is the optimistic ending, unique for Bergman. It was intended to be his last film, and I imagine him wanting to leave something more uplifting in his legacy. Fanny and Alexander is pure enchantment, pure storytelling, and its triumphant conclusion is richly earned.

16. The Meaning of Life. Terry Jones, 1983. The year '83 was when a lot of rot set into American film, but in the UK, Monty Python served up their best. Most favor Holy Grail or Life of Brian, but for me The Meaning of Life is better than those classics. It's obviously the darkest Python film, as it charts life from birth to death in a series of crude and gross skits, and really pushes the bounds of decency. That's why it's so good. Comedy is at its best when boundaries are smashed to the limit. (Witness All in the Family and South Park.) John Cleese's sex education class remains one of the most hysterical things I've seen. Meaning of Life was the last time all the Pythons worked together, and they went out offensively as possible.

17. Crossroads. Walter Hill, 1986. I was a high school senior when this came out, and I remember it bombing at the box office. In hindsight I'm not surprised. It was a very unusual film for the '80s, a mainstream effort that dealt in issues outside the mainstream: bargains with the Devil in order to achieve fame; the world of blues subculture of the deep south. The final guitar showdown in Hell holds up after all these years; the guitars of Eugene and Butler seem weaponized as they alternate their riffs, then play at the same time, get in each others faces, and desperately try to one-up the others notes. With the challenges of portraying music as a dangerous force, the Devil as a southern black, and an unbalanced friendship that ends with appropriate payoff, Crossroads does far a remarkable job than its reputation suggests, and I still adore it. For me, it's the Huckleberry Finn of films.

18. Near Dark. Kathryn Bigelow, 1987. Vampires are hard to do right by, especially when romance is involved, but Near Dark is the perfect vampire film. (Ironically the word "vampire" is never even used.) There is no seductive glamorizing of the bloodsuckers; it's a very violent and nihilistic tale; and yet the romance between Caleb and Mae remains one of the most tender in any vampire story. The happy ending and return to the nuclear family betray the '80s period; had this been made in the '70s, Caleb and Mae would have stayed vampires, and one of them likely met some tragic end. But the film is so awesome that you can forgive the optimistic conclusion. Post-script: many of the Aliens cast are found here: Bill Paxton, Lance Henriksen, and Jenette Goldstein. Near Dark is far superior to Cameron's blockbuster.

19. Jesus of Montreal. Denys Arcand, 1989. This reinvention of the passion play is a critique of orthodox Christianity but fires especially on secularist evils — fame, the media, and the contempt actors suffer in the commercial industry. It takes place in '80s Montreal where a Catholic priest hires a talented actor to direct the annual passion play, but he wants him to get creative and rework the stations of the cross for a more modern consumption. The priest gets more than he bargained for. Using the latest of biblical scholarship, the actor (Daniel) casts himself as Jesus and with four other actors turns out a passion play in which Jesus is an illegitimate bastard sired by a Roman soldier, and less interested in making people feel good than terrifying them with lines from the Abomination of Desolation (Mark 13). Of the zillions of Jesus films flooding the market, this is the one to watch.

20. The Cook, the Thief, His Wife, and Her Lover. Peter Greenaway, 1989. At the end of the '80s came this splendid set piece, hosted by an infamous character played by Michael Gambon. Albert Spica is the sort of despicable person you can't believe makes it from day to day without being murdered. He presides over a banquet in a restaurant every night, eating and acting like a hog, demeaning his wife, the cook, customers, and even his thug colleagues. It's an obscene display, but for all the repugnance this film is dazzling eye-candy. Every room of the restaurant is saturated in arresting color (red dining room, green kitchen, white bathrooms), and the characters' clothes change color accordingly as they walk from one place to the next. The final act of cannibalism (forced on Spica) is a sweet poetic justice.
21. The Exorcist III: Legion. William Peter Blatty, 1990. The true sequel to The Exorcist (which doesn't acknowledge the travesty of Exorcist II: The Heretic (1977)) is adapted from Blatty's sequel novel Legion, and it's a very unusual horror film. When I saw it in the theater, I remember being so terrified by Lieutenant Kinderman's first sight of Patient X that I was panic stricken. We see the wasted figure of Father Karras who we know from the first film should be dead; the sight of the possessed priest is a horrifying revelation. While Legion isn't scarier than the first Exorcist, in some ways it's more unsettling, because it's the kind of film you can't imagine anyone making if they didn't completely believe in manifest evil. The fact that it did poorly at the box office says plenty about the mainstream preference for cheap thrills over true terror.
22. Twin Peaks: Fire Walk With Me, David Lynch, 1992. This masterpiece — and yes, it is one — continues to have a bad reputation even among Lynch fans, and I used to have my own reservations when judging it as a Twin Peaks prequel. When you distance yourself from TV seasons 1 and 2, and treat it as a standalone piece, a much different film emerges, one of the greatest horror movies of all time. The scoring is brilliant, the acting flawless, and it's by far Lynch's cruelest film, more so than even Blue Velvet — containing scenes in Laura's bedroom so terrifying they make parts of The Shining look tame. Fire Walk With Me is about Laura Palmer's last week on earth, how she has processed years of rape at the hands of her father, and her choice of death rather than allow herself to be possessed by a hideous spirit.

23. Leon the Professional. Luc Besson, 1994. This controversial film took the child sidekick trope and had the nerve to turn it into a love story, but the American version censored the love-story part — 25 minutes worth of scenes that show a 12-year old girl lusting for a guy in his 40s. That of course is the whole damn point of the story. Obviously a film like this stands or falls on the child's performance, and Natalie Portman nailed it. Her character, Mathilda, is a girl whose family gets gunned down by corrupt DEA agents, and so she hooks up with the hitman Leon in her distress. She gets an instant crush on him and he doesn't know how to handle it, but before long, he's training her how to kill and taking her along on his hit jobs, while she takes every blatant opportunity to hit on him. I love this film to pieces. Needless to say, don't watch the censored version.

24. Pulp Fiction. Quentin Tarantino, 1994. Tarantino's impact on the '90s can't be overstated, and this film in particular showed how sickeningly hilarious artistry can be. When I first saw it, I laughed so hard I was choking. No one can write bickering and bitching around so much violence like Tarantino. Sequences like the adrenaline needle into Mia's heart, and Vince accidentally blowing Marvin's brains out in the car, are scenes you can replay forever. The non-linear storytelling inspired a flood of lesser efforts, but you have to be Tarantino to write like this, and in the case of Pulp Fiction, every stroke of the pen was inspired by his magic.

25. Seven. David Fincher, 1995. What elevates Seven above greatness to masterpiece is the way John Doe wins in the end. "The box" has become an icon of our collective mindset almost like "Rosebud". That comparison may sound absurd, but I do believe that Seven is as perfect a film as Citizen Kane. (Fincher's Mank, on the other hand, which aspired to Kane's greatness, didn't even come close.) There's nothing to fault in this film: the atmosphere (always either dark or raining), the scoring (the prologue's Nine Inch Nails song, and the library scene's Air on the G-String in particular), the casting (Morgan Freeman's and Kevin Spacey's best roles), and above all for its dramatic tunnel into the eye of hell and the meticulously crafted climax, all of which combine to suggest a hopeless world, an ugly humanity, but with enough heroes like Somerset and Mills who for their flaws are willing to fight on regardless.

26. Casino. Martin Scorsese, 1995. If I've said it once, I've said it a thousand times: Casino is superior to Goodfellas. It's more epic in the characters' rise and fall. It elevates Scorsese's favorite themes above the street corner and into the sanctum of America's Sodom. Whenever I watch Casino I'm completely swept up in this dark vision of Las Vegas and people driving themselves to disaster. Sharon Stone's performance (raging alcoholic tantrums and all) is way underrated, and Joe Pesci's psychotic mob enforcer, though a repeat from Goodfellas, is less comical and more terrifying for it. Robert De Niro offers a more sympathetic character than he did in Goodfellas. Casino uses the mob world to speak to our fallen state and makes me feel like an insider to that world — that I share more in common with these thugs and pathetic people than I care to admit.
27. From Dusk Till Dawn. Robert Rodriguez, 1996. This is the best genre busting film I know of, and if you go into it knowing nothing (as I did), you will be richly and stupefyingly rewarded. The first half plays like a Quentin Tarantino film, showing two despicable bank robbers (one of whom is actually played by Tarantino) kidnapping and tormenting a man and his two teenage kids. They flee across the border into Mexico, and come to a strip bar; the two scumbags raise hell in the bar with asshole behavior, and they force the man and his kids to drink with them and enjoy all the sleazy "fun". Then, out of nowhere, the film goes batshit crazy — the employees of the bar turn into vampires and begin slaughtering and feasting on the customers. By rights this baby-switcher shouldn't work, but it does thanks to Rodriguez's talents. The rewatch value is immense.
28. Crash. David Cronenberg, 1996. Cronenberg's most fucked up film — and I mean that in a good way — is a bit like Pink Floyd's The Wall: just watching it is a drug trip. It explores esoteric fetishism, in this case people who are sexually aroused by car crashes, even fatal ones, and study and ritually reenact the car accidents of celebrities. For all the racy material, it doesn't come across as sensational, in fact, just the opposite: it's incredibly subdued and polished. The cold blue look works wonders in this regard, and dialogue seems to be spoken through a dream-like filter. In the hands of another director, Crash would have been a cheap Basic Instinct type of thriller; in Cronenberg's it approaches the artistic nihilism of Ingmar Bergman.

29. The Ice Storm. Ang Lee, 1997. If some of the most visceral transgressive films were produced in the year 1973 (Heavy Traffic, Badlands, The Exorcist), The Ice Storm is the best film set in 1973. Ang Lee didn't speak English well when he made it, but that was no obstacle given his astonishing talents. He nailed the sexual-political revolution of '73 perfectly through the looking glass of two suburban dysfunctional families. The spouses cheat on each other and are clueless about raising children properly; everyone is well provided for, but they don't have common ground or any real purpose in life outside of marriage-swapping parties. I continue to be awed over Lee's command of '70s introspection given the fact that he learned most about American life by watching films in Taiwan. He's a rare genius who never needed much help to see into the heart of people, wherever and whenever they're from.

30. Eyes Wide Shut. Stanley Kubrick, 1999. If a director like David Lynch can make audiences feel like they are inside a dream, Eyes Wide Shut accomplishes the more ambitious task of making life itself seem like a dream. Every weird thing that happens to Dr. Bill on his night out — professions of love next to a patient's corpse, a young girl's seductions at a costume shop, and finally the orgy of masked performers — is real but hardly feels it. It struck me as an oblique Christmas Carol spin-off, as Dr. Bill wanders around New York encountering "ghosts" of sexual temptation, barely avoiding one disaster after the next, weighing the value of what he lusts for against the wedge that has come between him and his wife. There's a Christmas tree in every other scene, and the aesthetic is gorgeous, surreal, and eerie. But there's not a slice of artistic pretension. Kubrick's final film is his best, and it's a shame he died before it's theatrical release.

31. The Lord of the Rings. Peter Jackson, 2001-2002-2003. Jackson accomplished the impossible. I thought he would massacre Tolkien beyond repair, but five minutes into Fellowship of the Ring I was eating crow and spellbound, and for the next three hours I forgot everything about my life as I was swept into this spectacular incarnation of Middle-Earth. Two years later I was still awed: Return of the King is tragic on a biblical level, and the tragic feel never lets up in the last 45 minutes — from the point of Frodo's collapse on Mount Doom ("Do you remember the Shire, Mr. Frodo?"), to Aragorn leading the hopeless charge on the Black Gate, to Frodo and Sam resigned to dying before the eagles come, to the hobbit reunion in the Houses of Healing, to finally the aching departure at the Grey Havens. Jackson showed that fantasy could be taken very seriously. It's a shame he didn't follow his own example when making The Hobbit.

32. Storytelling. Todd Solondz, 2002. I'm not on board with the majority opinion that judges Welcome to the Dollhouse (1996) and Happiness (1998) to be Solondz's best films. I like Palindromes (2004) even better than those, and I consider Storytelling his finest work. The first skit is a skewering of college undergrads who parrot all the PC dogmas of the liberal left. A fiction writing class is led by an arrogant African American professor (played by Robert Wisdom, known from the TV series The Wire), who humiliates the students in front of everyone when they read their fiction-writing assignments (to a low-esteem student who has cerebral palsy, for example, he tells him that his story is "a piece of shit"), and who also likes to have sex with the young white women he teaches. The film deals with taboos of interracial curiosity and racial fetishism, and no one comes out looking good. All the students, and their self-righteous judgments, are revealed to be hollow. A suitable film for the 21st century.
33. City of God. Fernando Meirelles, 2002. This is a Lord-of-the-Flies gangster film, in which boys kill not just out of need, but because it's fun. The City of God is of course Rio de Janeiro, where in the slums there's no electricity or paved streets. But this is no social commentary on the poor of Brazil; it's one of the most spellbinding efforts at cinematic style. Meirelles is a gifted filmmaker — as good as Scorsese or Friedkin — who uses camera, soundtrack, and heady dialogue to make a locale like the City of God come alive in a way seldom achieved in cinema. At heart, it's the kids who really sell the drama. Their acting is so organic you feel like you're watching reality, and there are scenes you'll never forget, like the one in which two young kids must decide whether they want to be shot in the hand or the foot.
34. Hard Candy. David Slade, 2006. This film is so many things: a dialogue drama, revenge thriller, enacted domination fantasy, and morality puzzle. I see a different film every time I watch it, and in the sum of those viewing experiences the faults become strengths. The first time it was a Lolita set-up which turned into castration revenge. On second viewing I knew what was coming, and since Hayley was faking the castration her torture seemed a cop-out, and Jeff's suicide silly and unbelievable. But on third and later viewings I saw an enacted domination fantasy: a man's guilt-ridden wet-dream of being tormented by a 14-year old fantasy figure, and ending in his "noble" agreement to kill himself. Hard Candy works brilliantly on these meshed levels of reality and fantasy.
35. United 93. Paul Greengrass, 2006. You feel helpless watching it, but it makes you think about 9/11 for the right reasons. There are no hindsight politics in play. It's skillfully directed without a single exploitive frame. Ben Sliney plays himself, and to this day I can't fathom how he got slammed with 9/11 his first day on the job as the FAA's National Operation Manager. He's sort of the film's hero, as he makes the right decisions with minimal information, grounding over 4,000 American aircraft to the tune of millions lost in dollars. United 93 is one of the greatest pieces of cinematic catharsis I've seen (I saw it in the theater), giving an unflinching portrayal of what it must have been like for the passengers under jihadist captivity before dying.

36. Deja Vu. Tony Scott, 2006. This is a film I could talk about all day. It's a digital version of Hitchcock's Vertigo — exploring obsession and fractured identity — grounded in a time travel plot. Considering the terrorist theme, Déjà Vu is surprisingly apolitical, and unlike Scott's other films (like Man on Fire), it finds its solution not in revenge, but in the obsessive desire to go back in time and prevent the whole thing from happening — to save hundreds of lives, especially the one person you can't stop thinking about, even if you don't stand much chance of surviving the trip. And who else to play such a hero than Denzel Washington? He is to Tony Scott as Robert DeNiro is to Martin Scorsese; as Jennifer Lawrence is to David O. Russell; as Samuel Jackson is to Quentin Tarantino. Some actors get recycled and reused over and over again by the same director because they're attuned to the director's needs and deliver exactly as required each time; and in the case of Deja Vu, Washington delivers his best performance ever.

37. Sunshine. Danny Boyle, 2007. After seeing Sunshine I bought another ticket and saw it again right away, which is something I've never done with any other film. It's strange that of the zillions of outer-space films, none besides Sunshine have bothered to focus on the sun, which is after all the most important and dangerous body in our solar system. Here the sun is dying, and so a space crew embarks on a mission to drop a nuclear bomb into the core of the sun, which will hopefully reignite it. Right from the start the mission becomes one calamity after the next, and the crew members have to sacrifice themselves to save oxygen. There is also the subplot of a hideously disfigured religious fanatic who believes God wants humanity to die, and does everything he can to slaughter the crew. There are homages to Alien and outer space claustrophobia, and in the end the crew die as they must to save planet earth.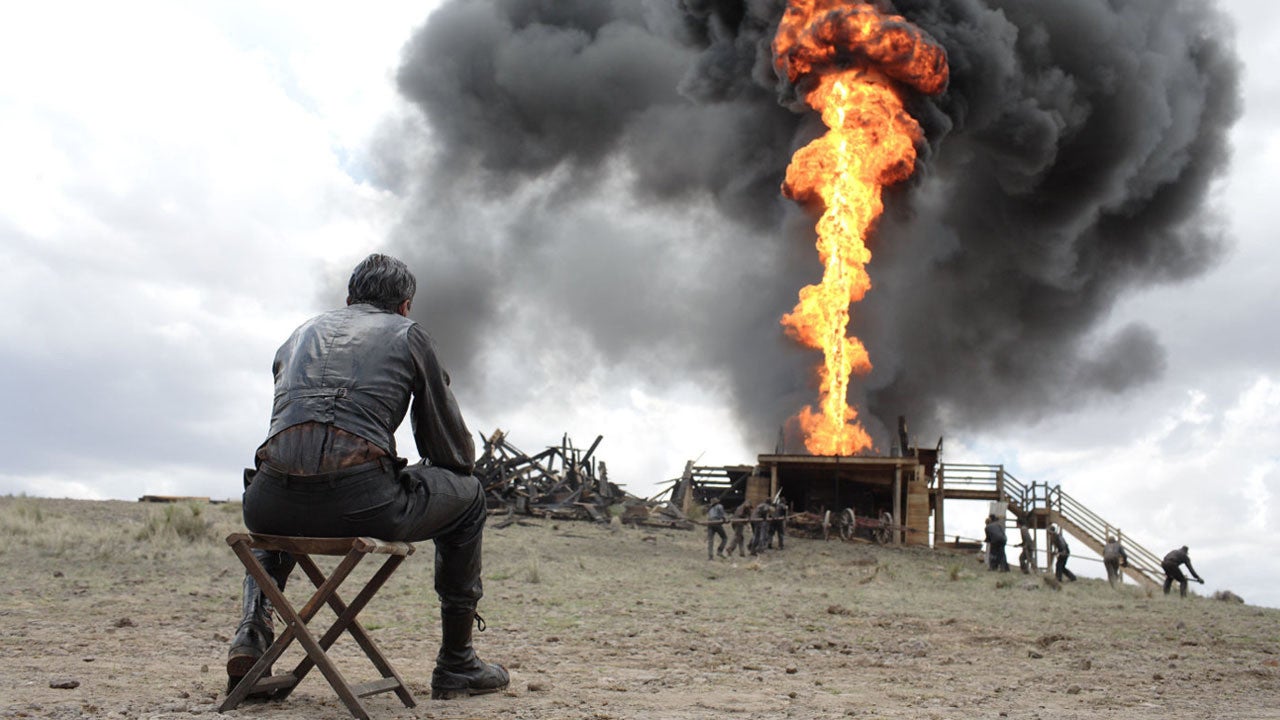 38. There Will Be Blood. Paul Thomas Anderson, 2007. This blistering attack on the prosperity gospel was almost enough to make me renounce my capitalist convictions (yeah, right). Set in 1911, it's about a man's rise from poverty (a miner) to riches (an oilman), and his relationship with a young pastor who offers faith-healing and hypocrisy to those who dare the doors of his grim church. Daniel is a mean and hateful man, who has no friends and just wants to become filthy rich. The pastor is Eli, who is just as greedy but doesn't want to get his hands dirty; Daniel scorns religion but has no problems using it as a means to an end. Blood spills from everywhere throughout this film — from the land (oil), people, and the Lamb Himself — and critics are right to call it a masterpiece of rare vision. It's about greed and evangelism eating each others tails.

39. Doubt. John Patrick Shanley, 2008. When a liberal priest is accused of having an erotic interest in one of his altar boys, one nun becomes convinced of his innocence while another is certain otherwise. We aren't sure what to believe or how to feel, because the evidence is murky and the priest a sympathetic character. He's progressive for the year 1964, while the inquisitorial nun laments the reforms of Vatican II. The pivotal scene is the conversation between Aloysius and the boy's mother, who basically tells the nun to just let the priest have his way with her son, in a jaw-dropping and surprisingly compelling argument, given her limited options as an African-American woman of the time period. She isn't wild about her son's friendship with the priest, but thinks it's a refuge from life at home under a violently abusive father. That's a hard idea in our world today which pathologizes eroticism between adults and youths, and that is doubtlessly part of Doubt's challenge.

40. Love Exposure. Sion Sono, 2009. To celebrate sexual deviance in a context of religious dogma is a bold strike, and Love Exposure pushes envelopes and then some. It's a four-hour sprawl of religious guilt, sexual frustration, family feuds, industrial pornography, and peek-a-panty photography — the last involving street boys who look up girls' skirts while camouflaging their camera shots with hilarious martial-arts acrobatics. It's impossible to summarize without sounding ludicrous, but be assured that critics and audiences love it. I fell absolutely in love with Yu and his quest for the right girl — his "Virgin Mary" as it were. I felt like all the characters were my family by the end of four hours (which seemed more like two and a half), and for all the absurdist comedy, the message about Catholic dogma, new wave cults, and the ultimate nobility of perversion is a very serious one.

41. The Tree of Life. Terrence Malick, 2011. Like Kubrick's Space Odyssey, this is a picture-perfect film showing humanity dwarfed by celestial mysteries. It spotlights an American Catholic family within a macrocosm of evolution, and an implied dialectic of nature vs. grace. But grace emerges not as something which contradicts nature (even if it's its conceptual opposite), rather something inherently part of it, or complementing it, or mutating from it. Every frame depends on just the right camera angle, scoring, and particular subtleties around snippets of dialogue you can barely hear. It ends on a spiritual apocalypse that could move an atheist: the yearning for reunion in some form of afterlife, a hopeless fantasy we cling to in order to cope with pain and loss.
42. The Divide. Xavier Gens, 2011. This nasty film is set in the basement of a New York high rise apartment, where nine strangers gather to survive a nuclear holocaust. Despite uneasiness and distrust, they try working together at first, and do pretty well until cabin fever, radiation sickness, and their own base humanity take over. There's torture, rape, sex slavery, and full-blown lunacy on display, and there's no light at the end of the tunnel — which in this case happens to be, literally, a tunnel of shit. The Divide holds humanity completely captive to misanthropy and one of the most convincing Lord of the Flies-themed films ever made. The performances are brilliant; even I was deeply chilled by what Gens believes people are really like under our societal conditioning.
43. The Pact, Nicholas McCarthy, 2012. Way underrated, this tale of a haunted house contains a truly terrorizing twist. It turns out there is indeed a ghost in the house, but also a real-life psychopath living in the cellar, and he has been there the whole damn time. When you learn this and reflect back to the start of the movie when some of the "ghostly" assaults began — the open closet door, the jar of food on the floor, Annie being levitated and thrown against the walls, the other girls disappearing altogether — you realize that only some of this was the ghost. That's frightening on many levels, and the sort of thing Peter Straub pulled off brilliantly in his novel Lost Boy, Lost Girl, especially with the secret room with spyholes, and the room of caged torment. McCarthy blends psychopathic and supernatural horror like a master.
44. Blue is the Warmest Color. Abdellatif Kechiche, 2013. It's a bit sad that this has gained notoriety for the graphic lesbian scenes, which for the record are tasteful and well used. The pornographic tone fits the early part of the story where the young Adele is discovering herself, and seeing herself, in wildly adolescent terms. The film isn't about sex anyway, but the searing power of love which becomes destructive, but with room for healing afterwards. After the break up Emma is able to forgive, and Adele obtain at least some measure of closure. The film is three hours long but I wanted it to go longer and keep following the lives of these young women.

45. The Walk. Robert Zemeckis, 2015. I can only imagine the harm my psyche would have suffered had I seen this in 3D. Audiences suffered extreme vertigo, and even in front of my computer I was sweating and shaking. How anyone could want to do what Philippe Petit did on that morning of August 7, 1974, is well beyond the reach of my understanding. He walked back and forth over that wire between one tower and the next, eight times, for over 45 minutes, while spectators and police officers could only look on aghast. The Walk shows an artist who lived for his art to the fullest extent. Unlike novelists, painters, musicians, and film makers, Petit was unable to record his miraculous walk for posterity to enjoy. Zemeckis rectified that for us with this incredible film.

46. Little Men. Ira Sachs, 2016. Along with the TV series Stranger Things, this film is a salute to the freedom of youth. Stranger Things does this in a science-fiction/horror context; Little Men achieves it in a social parable. I have a strong attachment to Jake because he reminds me of my own friendship at that age with an uninhibited extrovert like Tony. When I moved out of town I never really saw him again, so the unpleasant separation of these two at the end hit close to home. Little Men celebrates difference despite the avalanche of parental roadblocks. Jake is Caucasian and middle-class, Tony is Chilean and poor, and their friendship grows the more their parents become enemies. Taplitz and Barbieri are allowed to play their roles with simple and understated tones that makes you feel you're watching the everyday lives of real people, and for me it's a very special film.
47. Mother! Darren Aronofsky, 2017. The reason people hate it isn't because it's a bad film, but because it was deceitfully marketed, with the trailer implying a more mainstream thriller. If you don't like indie horror films that offend on the deepest levels, then avoid Mother! at all costs. It's about a man and woman in a countryside home, where the woman suffers intrusions from guests who gratify her husband's ego. The intrusions get increasingly outrageous, until hell breaks loose. The indoor house becomes a battlefield of crazed strangers who commit unspeakable acts, and in the end seize the woman's newborn infant, rip it apart into dozens of pieces, and eat it as if it were a sacrificial lamb. This is Aronofsky at his most audacious, but also at his best, and it helps that Jennifer Lawrence's performance is so visceral and sympathetic.

48. Blade Runner 2049. Denis Villeneuve, 2017. Not only does Blade Runner 2049 live up to its predecessor, it supersedes it as a stunning visual aesthetic with more ambitious concepts, and taking them at the slow pace they deserve, so patiently that it feels like a '70s film. I'm not surprised it bombed at the box office. Few people these days have the wherewithal — and by that I mean the intellectual wherewithal from above, and the physical fortitude from below — to sit still on their sweet asses for 2-3 hours and enjoy good artistry. The best character is the hologram Joi, and she serves an oblique existential function: if software can fall in love and fear death, then the objection to replicants having these soul-like traits becomes even more strained. Her merging with the woman for K's sexual pleasure is an incredible piece of choreography, as is virtually every other scene in this masterpiece. By rights a film this good shouldn't have been made in the 21st century; I don't why or how it came to be. I'm just glad it did.

49. First Reformed. Paul Schraeder, 2018. Not exactly a remake of Bergman's Winter Light (1962), it does spin off the Bergman classic, and for the most part very well. It also mimics Diary of a Country Priest (1951) with the role of the elder pastor who mentors the Ethan Hawke character. But First Reformed goes for the jugular in some mighty surprising ways, and it's also a parable about the apocalypse, with Bergman's atomic warfare theme being changed to environmental catastrophe. I've seen the film many times. The only thing that sticks in my craw is the scene that replays Tomas' cruel treatment of Marta in Winter Light, which went on for a patient ten minutes, but in First Reformed was zipped through in the blink of an eye. But that's a small quibble. In all the ways that matter this is a near perfect film.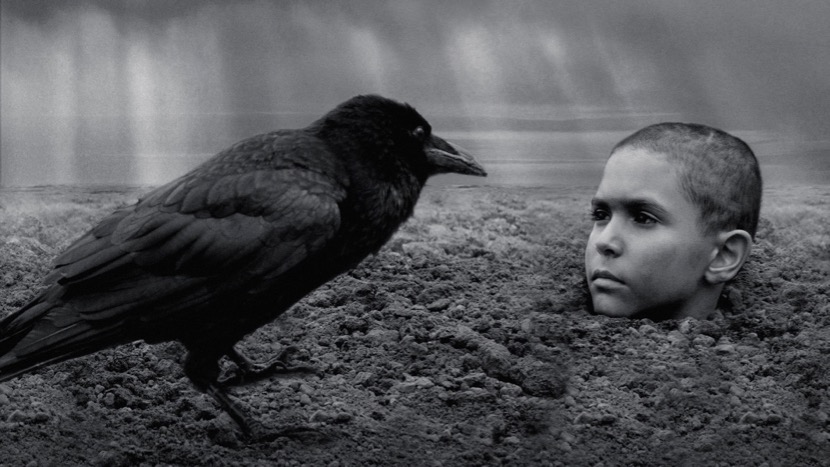 50. The Painted Bird. Václav Marhoul, 2019. If there was ever a film that depicted hell on earth through the eyes of a single individual, it's surely The Painted Bird. Set during the Holocaust in an unspecified Eastern European country (the language spoken by the characters is Interslavic), it shows the odyssey of a Jewish boy, as he wanders from village to village and is subjected to every kind of depravity. He's beaten; he's buried to his neck, and the crows come to feast. Eventually he is seized and given to the Nazis, and while he escapes execution, he winds up in the hands of a pedophile. Then it's out of that frying pan into the fire of a female pedophile, who molests him around acts of bestiality; at one point she has intercourse with a goat. And so forth and so on. There are moments of fleeting compassion in this godawful road journey, and you will certainly need them. The Painted Bird shames the human species as it examines the worst of our impulses in the darkest scenarios, and yet strangely it offers the most authentic rays of hope in its rare moments of grace. It's a 2019 film that was released in America in 2020, and very suitably: it's the perfect film for this disastrous year now coming to a close.
Ranking the Top 3's
From each of the ten films per decade, I will now rank the top 3, for what I consider to be the 15 best films of the past 50 years:
1970s
1. The Exorcist. William Friedkin, 1973.
2. Eraserhead. David Lynch, 1977.
3. The Godfather. Francis Ford Coppola, 1972.
1980s
1. Fanny and Alexander. Ingmar Bergman, 1982.
2. Conan the Barbarian. John Milius, 1982.
3. Jesus of Montreal. Denys Arcand, 1989.
1990s
1. Eyes Wide Shut. Stanley Kubrick, 1999.
2. Pulp Fiction. Quentin Tarantino, 1994.
3. Seven. David Fincher, 1995.
2000s
1. The Lord of the Rings. Peter Jackson, 2001-2002-2003.
2. City of God. Fernando Meirelles, 2002.
3. There Will Be Blood. Paul Thomas Anderson, 2007.
2010s
1. Blade Runner 2049. Denis Villeneuve, 2017.
2. The Painted Bird. Václav Marhoul, 2019.
3. The Tree of Life. Terrence Malick, 2010.