These are the cinematic couples who have most moved me, for better or worse. Most of them have unhappy endings. Have a very nice Valentine's Day.

1. Clarence and Alabama. True Romance, 1993. Quentin Tarantino wrote these sweethearts, and Scott directed them with his usual flare, combining an extremely violent tale with morbid humor. A cocky reckless drifter and a ditzy bimbo end up in over their heads with drug dealers, but the story is about their unconditional love-at-first-sight, and I dare say their final scene on the beach is one of the most well earned epilogues in any romance. No question, Clarence and Alabama take the #1 slot.

2. Adele and Emma. Blue is the Warmest Color, 2013. They gained notoriety for graphic lesbian scenes (which are actually tasteful and well used) instead of the love story, which is a bit sad. The film isn't about sex, but the searing power of love which becomes destructive, but with room for healing afterwards. Blue is a romance film that has the nerve to ask what comes after a nasty breakup, and give that part just as much attention. It's three hours long but I could have watched Adele and Emma's lives play out for three hours more.

3. Jesse and Celine. Before Sunrise (1995), Before Sunset (2004), Before Midnight (2013). I love the trilogy of conversational exercises between Jesse and Celine, and by the time we know them in the last film, they've been in a steady relationship for nine years. But their reflections on how they met and how their lives have changed, are just as compelling as the original outing when they were young and took bold risks. It adds up to a very rare trilogy — in fact, I cannot think of any other trilogy — in which the excellent first is followed by an even better second and then (against every odd) the third which is best of all.

4. Caleb and Mae. Near Dark, 1987. There is certainly no seductive glamorizing of these two vampires — this is a very violent and nihilistic tale — and yet the romance between Caleb and Mae remains one of the most tender in any vampire story. The happy ending and return to the nuclear family betray the '80s period; had this been made in the '70s, Caleb and Mae would have stayed vampires, and one of them likely met some tragic end. But the film is so awesome you can forgive the ending.

5. Monika and Harry. Summer with Monika, 1953. This Bergman classic is a tale of youthful escapism everyone has fantasized about at some point: two lovers abandon their jobs and families, and run away in a motorboat to spend weeks on an isolated beach in the Stockholm archipelago. They dream the dreams of children, of a blissful married life ahead of them… and then return to the cold reality of poverty, dissatisfied adultery, and unwanted babies.

6. Juno and Bleeker. Juno, 2007. The romance between these two kids is just one of the many endearing things about this comedy about a teen who contemplates abortion but wants to have the baby and give it to a wealthy couple. (And no, it doesn't glorify teen pregnancy or serve an anti-abortionist agenda.) Maybe I'm sappy after all, because I love the final scene.

7. Elio and Oliver. Call Me By Your Name, 2017. Some have actually accused this film of promoting pedophilia — I kid you not, a romance between 24-year old and a 17-year old — but what happens between Elio and Oliver is neither illegal (the age of consent in the film's setting is 16) nor immoral (since there is no manipulation or abuse of any power on the part of Oliver, the 24-year old). America has become an overprotective zone which condescends to 15-17 year olds as if they're 10-12. As a sexual coming of age story, the story between these two guys one of the most moving I've seen of its kind.

8. C.S. Lewis and Joy Gresham. Shadowlands, 1993. I'm not usually fond of dramas in which one of the pair gets bad news from the doctor and ends up dying in horrendous agony, but Shadowlands filters the tragedy through the lens of a famous theologian who had written so much on the necessity of human suffering. Confronted with it personally, he finds himself mocked by his own wisdom. Shadowlands is the rare romantic tearjerker without melodrama, and a brutal look at how a Christian theologian was broken by his own lessons.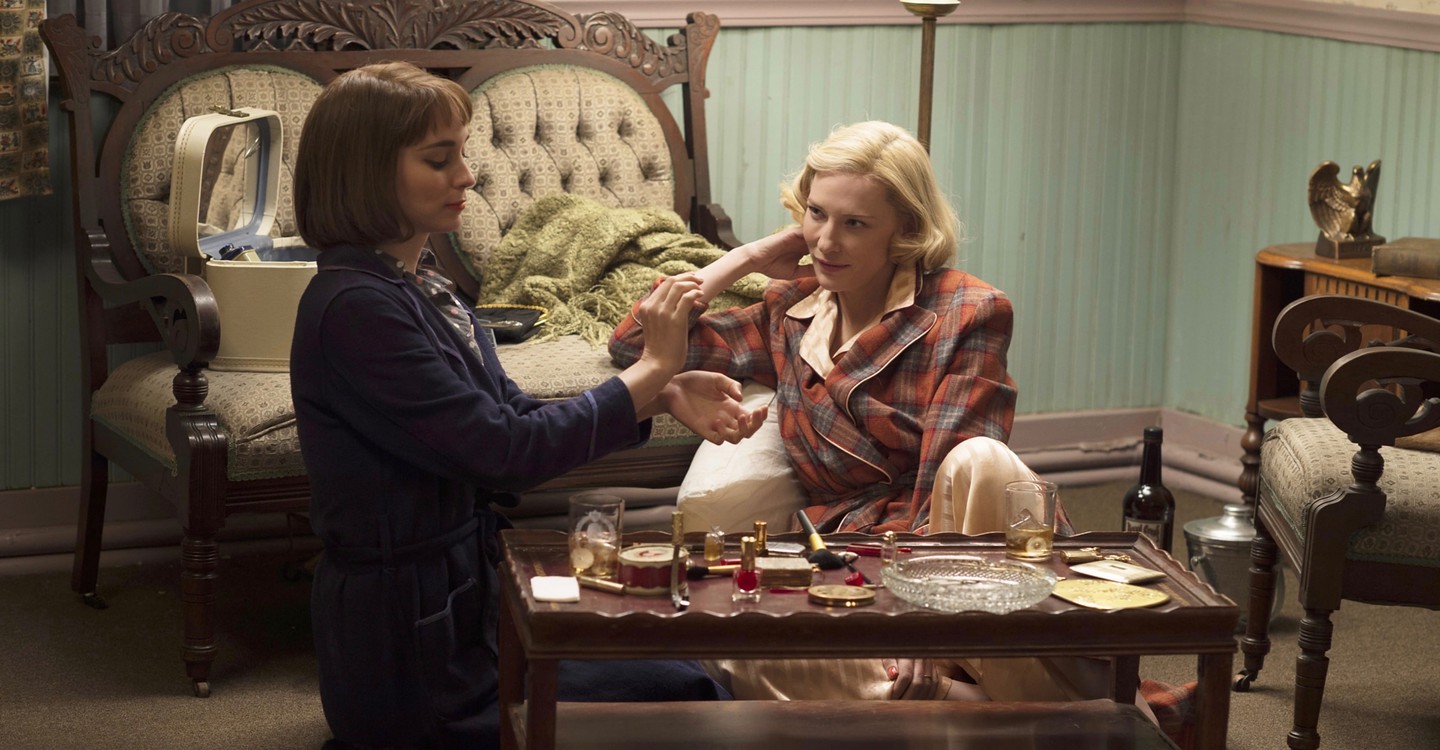 9. Carol and Therese. Carol, 2015. A love affair between two women was unspeakable in the '50s, and that era provides the perfect canvass for an examination of feminine hungers and pains. Watching Carol is like being pulled through a looking glass and tasting forbidden love in an austere time. I've always been in awe of Cate Blanchett, and this is probably her best performance. Which is saying a lot.

10. Dean and Cindy. Blue Valentine, 2010. By far the most depressing romance I've ever seen captures the start and end points of a hopeless relationship begun in puppy love followed by stagnation. The film flashes between past and present, but sheds no light as to what caused the decay, which is much the point. People marry on impulse, and then before they know it, they can't remember what they wanted in the first place.