This is a long-delayed installment in the favorite director's blogathon. It was a given that Scorsese would be covered, but I needed to do a marathon of his films. Some are better than suggested by earlier viewings (notably Shutter Island) while others don't quite live up to their reputation (get ready for a couple of blasphemies). Of his 24 feature films to date, here are what I consider the top 10.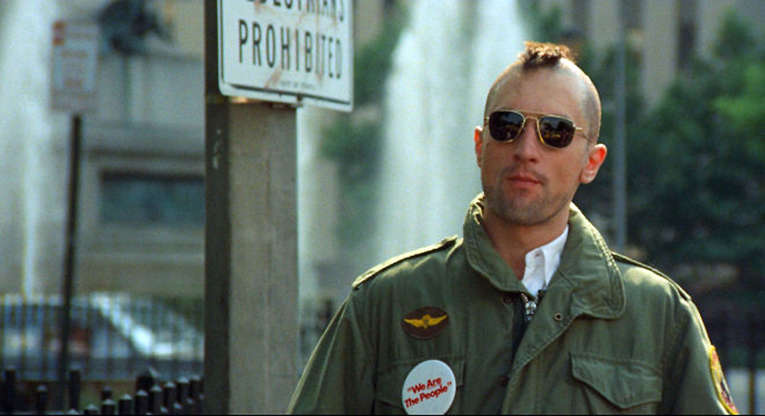 1. Taxi Driver. 1976. 5 stars. What can be said about Taxi Driver that hasn't been chewed over by the Scorsese cognoscenti? Nothing probably, but I'll offer this: that there is some of Travis Bickle in all of us. The misanthrope who thinks, with no conscious malice, that society is degenerate and beneath contempt. The sociopath driven to loneliness after failing to connect with people. The frustrated citizen who thinks his country needs an enema, and will assist in this regard by using violence. It struck me as I watched Taxi Driver for the umpteenth time that this ugly potential has more relevance than ever in today's world — of increased income inequality, alternate facts, social media bubbles, and the ascendance of Donald Trump. Trump won the election on the platform that America is in shitty decay, thanks to regressive liberals and foreigners. (There's plenty of truth to the former, unfortunately.) There's a Travis in everyone, yes, but especially in disaffected white men who think it's time for Travis to take action. I know it cheapens a masterpiece like Taxi Driver to reduce it to a political metaphor, but no one needs me to say the obvious, that it was the first Hollywood film for cinephiles and so brilliantly avant-garde. The metaphor in this case does it justice.

2. Silence. 2017. 5 stars. This is the film I thought Scorsese was aiming for all his life but never had a hope of pulling off. His other forays into religion — The Last Temptation of Christ (1988) and Kundun (1997) — were so bad that I said he should avoid the subject. He finally hit a home run. Silence is not only one of the best religious films of all time, it's Scorsese's second best film, and a special treat for someone like myself who loves the novel Shogun, set in the middle of Japan's "Christian century" (1543-1635) and portraying the complex history of the Portuguese Jesuit missionaries. Scorsese's film draws us into the "post-Christian" period of the late 1630s and he is just as shrewd as James Clavell in resisting sides. The film is no more a liberal critique of western colonial power than a glorification of Christian martyrdom. The priests are decent and have treated the peasants with dignity in a feudal state that was hostile to the poor; yet their work for God incited massacre. Like Clavell, Scorsese shows courageous people going under the sword of honor and shame, and essentially reaped what they sowed. It's a deep story with a lot of thought behind it, one that I'll be returning to many times.

3. Casino. 1995. 5 stars. The first heresy on my list is that Casino is superior to Goodfellas. Sue me, but it's true. As Natasha Vargas-Cooper puts it, it's more epic in the characters' rise and fall: "In GoodFellas, the hoods, even with all their cheerful sociopathy, get progressively smaller and pettier as the movie progresses. It is, after all, about the grind of small timers. Casino, on the other hand, elevates Scorsese's favorite themes — greed, hubris, the primal lure of violence — above the street corner and into the inner working's of America's Sodom." Whenever I watch Casino I'm completely swept up in this dark vision of Las Vegas and people driving themselves to disaster. I've always said that Sharon Stone's performance — raging alcoholic tantrums and all — is way underrated, and Joe Pesci's psychotic mob enforcer, though a repeat from Goodfellas, is less comical and more terrifying for it. Robert De Niro offers a more sympathetic character than he did before, and doesn't hold us at a distance. Casino uses the mob world to speak to our fallen state and makes me feel like a true insider to that world — that I share more in common with these thugs and pathetic people than I care to admit. I always feel like I'm watching it for the first time, and that's true magic.

4. Goodfellas. 1990. 5 stars. Which isn't to deny Goodfellas' excellence. It was an instant classic for every good reason. And this may be another heresy: it's superior to The Godfather. Everyone talks about the opposite approaches of Coppola and Scorsese as if they're equivalently great in their own ways. The Corleones were tragic figures who held our sympathy; gangsters like Jimmy and Tommy are brutes who kill people just because their piles are itching. But the latter is less an alternative than a corrective to the romanticized myth. The life of a gangster is empty and devoid of attraction, pure and simple. Critical to Scorsese's success therefore is Henry's character and the way we experience this repulsive mob world through his gradual disillusionment. The character of Tommy provides the jaw-dropping shock value and trigger-happy mania, and is also sickeningly funny in the way only Scorsese can write. Could any other director have come up with the scene where Tommy taunts the barroom kid, shoots him in the foot, and then later shoots him dead when the kid gets fed up and swears back at him? Or the scene (above image) where everyone in the restaurant (and certainly every audience member) is convinced he's about to beat the living shit out of Henry for laughing at him?

5. Shutter Island. 2010. 4 ½ stars. This one keeps getting better. On first viewing I was enraged by the elaborate role-playing reveal. I thought it was a cop-out, and a variant of the "it's all in his mind" trope used by the laziest script writers. But I was wrong, and Shutter Island's whole point is appreciated more on subsequent viewings. (As with The Sixth Sense, those later viewings show how obvious everything is.) It's one of the best psychological horror films ever made, enhanced by the expressionistic style, ominous score, and constant sense of creeping unease. Ultimately it's about the human drive to reinvent ourselves, which we all do, but most of us in small enough degrees so that we can function and know ourselves reasonably as we should. Andrew Laeddis has completely revised his identity, unable to cope with having killed his wife because she murdered their three little kids. Shutter Island becomes an experimental playground for him to tame his trauma, while we think all the time that he's actually uncovering a hideous plot of doctors performing Nazi-like experiments on the psychologically disturbed. It's a brilliant film, and a lot like David Lynch's Fire Walk With Me — easy to misjudge and be angered by for the wrong reasons when you first see it.

6. The Departed. 2006. 4 ½ stars. It may not have the artistic merit of Casino and Goodfellas, but every single moment in The Departed — every line of dialogue, act of treachery, and shocking death — is a genuine thrill. Scorsese went all in and produced a gangster film of pure entertainment, and one that keeps you guessing. The mob boss (Jack Nicholson) has planted a mole in the Massachusetts State Police (Matt Damon), but there is another mole (Leo DiCaprio) working undercover for those same police to nab the boss. And then in a twist, it turns out the crime boss is a "mole" himself, an informant for the FBI. The supporting Mark Wahlberg and Alec Baldwin characters steal the show, which is saying a lot considering how good Damon and DiCaprio are as the leads. It's very refreshing to see Irish American gangsters instead of the usual Italians. That said, it was a serious blunder on Scorsese's part to have all the actors put on Boston accents. It's a difficult accent to master and everyone sounds absolutely horrible, especially Jack Nicholson, but also Baldwin (whose heavy New York interferes) and Sheen and Farmiga. Only Damon and Wahlberg sound right, naturally, since they're from Boston. The accents are so embarrassing that I wonder if Scorsese intended it for comedic effect.

7. Bringing Out the Dead. 1999. 4 stars. This is Taxi Driver with the nihilism dialed down, or as one critic has said, "Travis Bickle wants to cleanse the world and Frank Pierce wants to clean it". Frank can't obviously — aside from a few saving moments here and there — and is fated to work the streets of Hell's Kitchen in a chronic state of depression. The aesthetic is even stronger than Taxi Driver's, as we see Frank drive his ambulance through the streets at night, as steam rises from hellish-looking manholes. It's a great locale metaphor of sin (Scorsese only did better by Casino's Vegas = Sodom). The three supporting actors who play Frank's ambulance partners blow away Nicholas Cage, who I've never been a fan of anyway. The first-night partner is John Goodman's character, who avoids grief and depression by eating all the time. The second night is Ving Rhames, who plays a gospel Christian thriving on bloody emergencies to "demonstrate" Jesus' healing power. The last-night partner is even more dramatic, Tom Sizemore, who finds his own releases through, yes, beating the shit out of helpless patients he can't stand. Bringing Out the Dead is no masterpiece, but it's powerful surrealism that deserves more praise than it gets.

8. Mean Streets. 1973. 4 stars. It's amazing how good Mean Streets still is after all these years. When watched alongside Goodfellas and Casino it seems quaint, but this film made the later masterpieces possible. And I love the look of '70s films (aside from the hideous dress and hair styles); it was the golden age of cinema when directors dreamed big and explored style without pretension. On the surface Mean Streets is about guys hanging out and getting into trouble, and a fond look at the gangs and troublemakers of Scorsese's formative years in New York. It's the first movie he had complete control over, his personal examination of Catholic guilt, and his attempt to reconcile that guilt with the world of crime. It was released during the transgressive peak of the early '70s, the year 1973, during the streak of Malick's Badlands, Lumet's Serpico, and Friedkin's Exorcist (what a feast!). I often say if there was a single year in the 20th century I could go back and live through, it would be 1973. That was the moment of the greatest cinematic breakthroughs, the best of progressive rock (Selling England by the Pound), and bubbling dark energies that would be released as the Dungeons & Dragons game in January the following year. A film like Mean Streets captures the essence of this awesome point in American culture.

9. The Wolf of Wall Street. 2013. 4 stars. This is Goodfellas for corporate business, showing the mayhem of unrestrained greed, and some critics put it on the same plane of excellence as Goodfellas. They're wrong, but I should be clear what I'm not faulting the film for. It doesn't glamorize the lifestyle it portrays, any more than Goodfellas does; there isn't a fiber of my being that is remotely seduced by stock broker lifestyle when I watch it. The better objection is the opposite problem — that Wolf of Wall Street doesn't give us any sympathetic entry at all into the characters. Goodfellas did this through Henry Hill, who was scum, yes, but a scum with enough moral compass to be outraged over the senseless murder of a kid, to be sick and vomit over the sight of corpses, and he began as a low-level wannabe (and beaten by his father) unlike the thoroughly savage people who initiated him into the gangster world. There is no Henry Hill analog to anchor us in Wall Street's insanely repugnant world, and that, I think, is what prevents the film from achieving the heights Scorsese was aiming for. But on whole Wolf is still very good, and there are individual scenes showing Scorsese having fun at his best, not least that in which the Jonah Hill character infamously suggests that someone take the suitcase of money and shove it up his wife's Slatvian cunt.

10. Cape Fear. 1991. 4 stars. My tenth slot was a toss up between this one and After Hours. I really wanted to include After Hours since it's a comedy — a genre I seldom enjoy — and the obscure gem in Scorsese's bad run of the '80s. Alas, I simply can't exclude Cape Fear. I got endless rewatch out of it, and in my opinion De Niro's Max Cady is a more terrifying psychopath than Anthony Hopkins' Hannibal Lecter (a subject deserving its own blogpost). It's Scorsese's most commercial effort, but a very good one and vast improvement on the '60s original. Not only is the acting leagues ahead, the creative innovations up the ante. The most obvious is the pivotal scene between De Niro and Juliette Lewis (above photo) in which he corners her in the high school theater and seduces her, which is far more insidious and frightening than the original scene involving a chase through the school halls. My father was a lawyer, but thankfully not a criminal lawyer. I'd hate to think about the copycats Max Cady has inspired to go after their lawyers and families.
So… what about Raging Bull?
Thus my second heresy: Raging Bull (1980) is obscenely overrated; it's not the masterpiece it's made to be. The aesthetic is impressive (shot in black-and-white) and the acting performances are beyond criticism, but what's left after that? A "profound examination of masculinity"? I'm sorry, I don't see it, and I certainly don't get Raging Bull's place in the American Film Institute's hall of fame, the 4th best film of all time after Citizen Kane, The Godfather and Casablanca, or Entertainment Weekly's ranking it the 5th best film of all time, after the same three others plus Chinatown. I may personally not care for Casablanca, but I can at least understand why it's deemed precious. Raging Bull may as well be Any Given Sunday. And I'm in good enough company. When the film was released, the film's cinematographer Michael Chapman and scriptwriter Paul Schrader were thoroughly unimpressed with the result: "Wow," said Chapman, coming out of the theater. "Marty really fucked that one up, didn't he?" Schrader: "Yeah, he did. I don't know what went wrong there." But next year it won the Oscars, and the film would go down a legend. I have seen Raging Bull four times now, and I have paid lip service to its greatness in the past. No more. This list is an honest exercise, and I must honestly confess that the film is okay (3 stars) but not great, and one that I will probably never see again.